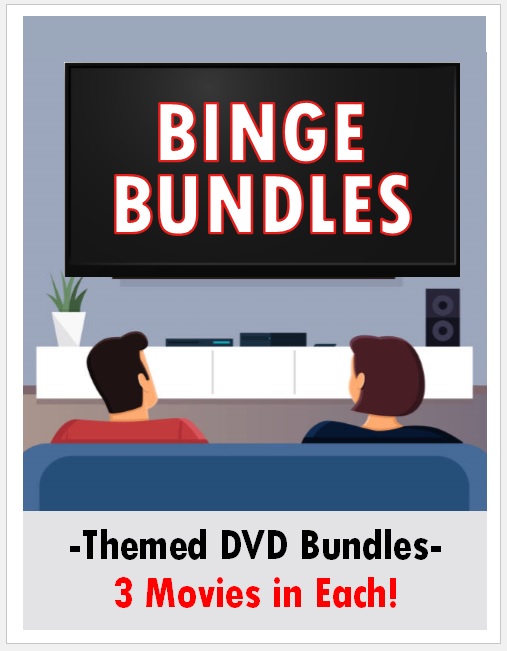 Looking for something to binge watch this weekend? Wirt library is now offering Binge Bundles! Check out 3 movies at a time in these new themed bundles to re-watch old favorites or find something new!
Fans of comedy, horror, romance, thrillers - There's a bundle for that!
Here's just a sampling of some of the bundles we have available. Happy viewing!
One Bundle to Rule Them All    The Lord of the Rings: The Fellowship of the Ring
                                                     The Lord of the Rings: The Two Towers
                                                     The Lord of the Rings: The Return of the King
You're a Wizard, Harry                Harry Potter & the Sorcerer's Stone
                                                      Harry Potter & the Chamber of Secrets
                                                      Harry Potter & the Prisoner of Azkaban
Never Travel With Tom Hanks    Castaway
                                                       Apollo 13
                                                      Captain Phillips
Don't Go In The Water                 Jaws
                                                       47 Meters Down
                                                       Underwater
I Ain't Afraid Of No Ghost          Ghostbusters
                                                      Paranormal Activity
                                                      Haunting in Connecticut
On The Road Again                      Planes, Trains, and Automobiles
                                                       We're the Millers
                                                       Easy Rider
Something Borrowed…               27 Dresses
                                                       Mamma Mia
                                                       Crazy Rich Asians
This Bundle Will Self-Destruct
In 5 Seconds                                 Mission Impossible
                                                       Get Smart
                                                       Bridge of Spies
They'll Make You Laugh & Cry    50/50
                                                       Little Miss Sunshine
                                                       The Bucket List
Get in the Game                           Jumanji: Welcome to the Jungle
                                                       Jumanji: The Next Level
                                                       Pixels
"Super" Funny                             Thor: Ragnarok
                                                       Guardians of the Galaxy
                                                       Guardians of the Galaxy Vol. 2
A Bundle You Can't Refuse         The Godfather Part 1
                                                       The Godfather Part 2
                                                       The Godfather Part 3
I Did NOT See That coming!       The Prestige
                                                       The Game
                                                       Memento
Bourne Again                               The Bourne Identity
                                                       The Bourne Supremacy
                                                       Jason Bourne
Presidental Suite                          Lincoln
                                                       Invictus
                                                       Frost/Nixon
The Acadamy Award Goes To…  Nomadland
                                                       Silence of the Lambs
                                                       West Side Story