The Local History and Genealogy Room at the Alice and Jack Wirt Public Library houses the Bay County Library System's major reference collections on Bay County, Michigan history and genealogy.  The Bay County materials include histories, city directories, high school yearbooks, atlases, maps, local history files, Bay City and Pinconning newspapers on microfilm and newspaper indexes for some time periods.
The Genealogy Reference Collection focuses on Michigan, the Eastern United States and Eastern Canada. It includes histories, cemetery readings, vital record indexes, census indexes, ship passenger lists, and obituary indexes for Bay City and Pinconning newspapers for some time periods.
You can also access our Genealogy Databases for family history research.
Web sites for Michigan Genealogy
Archives of Michigan Digital Collection
Includes Michigan Death records 1897-1920 and 1884 and 1894 Michigan Census for some counties.
Michigan County Histories Collection 
170 Michigan county histories dating between 1866-1926, full text and searchable.
Michigan Cemetery Sources 
Lists 3,700 cemeteries in Michigan, indicates whether theLibrary of Michigan owns a published transcription and provides a link if a transcription is on the Internet.
MIGenWeb
A collection of volunteer web sites, one for each county in Michigan, part of the USGenWeb project.
Familysearch.org
Familysearch.org  includes indexed, digitized Michigan vital records, deaths 1867-1897, marriages 1868-1925, and births 1867-1902 and an index to deaths 1921-1952. Choose Search, choose Search Historical Records, scroll to the bottom of the page, choose United States, scroll to reach the Michigan records links.
GENDIS 
Index to Michigan deaths 1867-1897.
Volunteers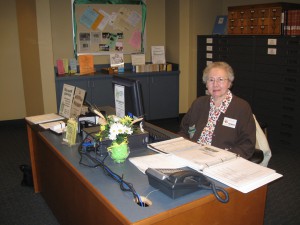 Bay County Genealogical Society Volunteers are in the
Local History and Genealogy Room to assist you on:
Tue  1-4 pm
Wed 1-4 pm
Thu 1-4 pm
Sat  1-4 pm