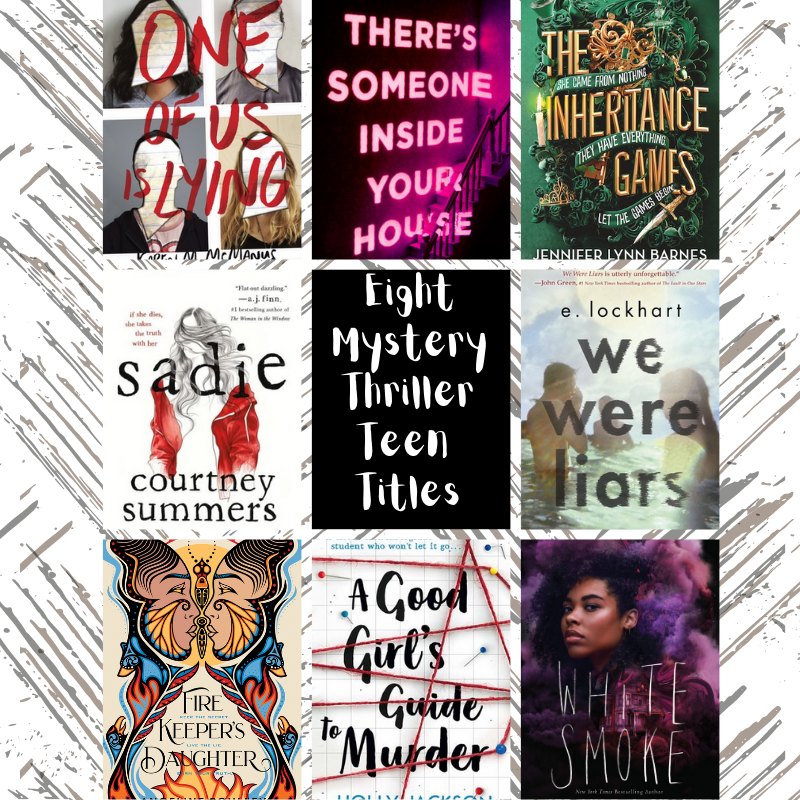 I'm feeling inspired by shows like Only Murders in the Building and One of Us is Lying, so let's focus on some of the twisty, awesome mysteries and thrillers you can find in the teen section.
One of Us is Lying by Karen McManus
This is one of the newest shows on the Peacock streaming network. This is like Breakfast Club with a criminal twist. Five students served detention together, but only four ever leave the classroom. What happened to Simon?
There's Someone Inside Your House by Stephanie Perkins
Another great title that was adapted recently, this time by Netflix. This is one for people who like slasher flicks. It is a little heavy on the gore, but great at keeping you on the edge of your seat.
The Inheritance Games by Jennifer Lynn Barnes
For those of you who use bulletin boards to track murder theories, this one's for you. This twisty series-book two is out, and book three is expected next year-draws comparisons to Knives Out. 
Sadie by Courtney Summers
This one is for all of you podcast listeners. After her sister's death, Sadie is determined to track down her killer. When a podcast host hears about the story and how Sadie has gone missing searching for the truth, he begins his search for Sadie.
We Were Liars by E. Lockhart
If you are on Booktok, you've probably heard of this one. The general consensus is it is best to read this book without knowing anything going into it. So if you are looking for a suspense novel, try this one.
Firekeeper's Daughter by Angeline Boulley
Set in the UP, this story follows a biracial, unenrolled tribal member Daunis. To help protect her community she gets pulled into an investigation and goes undercover to help bring a murderer to justice.
Good Girl's guide to Murder by Holly Jackson
When the case is closed on a small-town murder, Andie is not convinced. For her final year project she decides to take the investigation into her own hands. And that can be dangerous.
White Smoke by Tiffany D. Jackson
This one is for those of you who want a little supernatural in their mystery. Marigold and her family move from California to the midwest, to a gorgeous home, that may just be haunted.