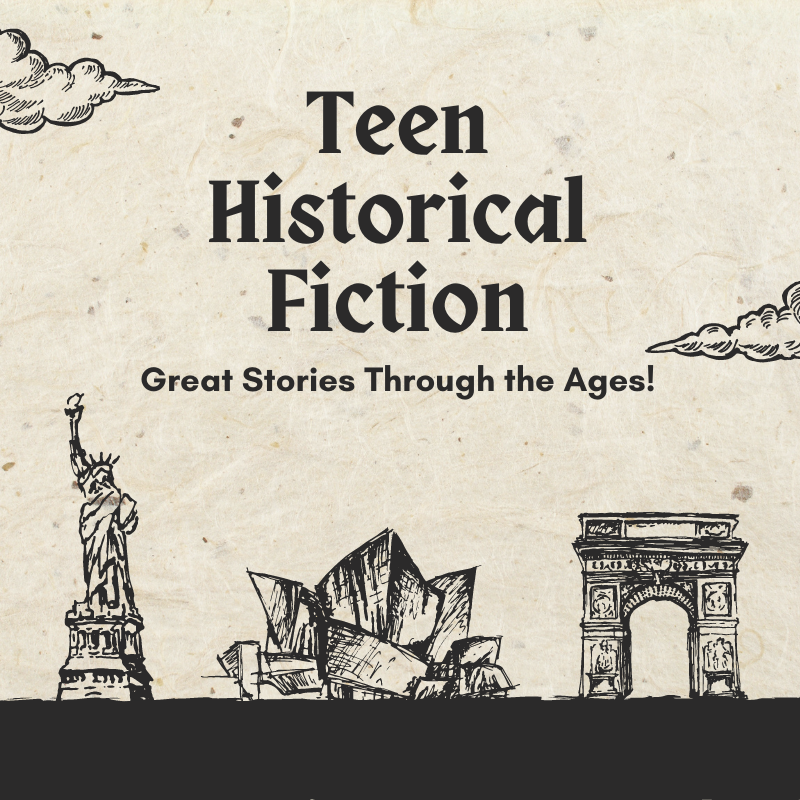 Are you a history buff? Or do you like to read books set in the past to imagine what it would have been like to live back then? It seems like there have been some great historical fiction books coming out in Teen Fiction lately that I'd love to highlight for you. On today's list, I am going to avoid books set during World War II, because there are enough of those for their own list! Everything is linked, so if you see a book that grabs your attention, click on it to place your hold today!
Anatomy by Dana Schwartz (Set in 1817) 
Hazel Sinnett is a medical student in 19th century Scotland who, after being kicked out because of her gender, works with new attractive acquaintance Jack Currer to procure dead bodies to study, but they soon discover secrets buried in the heart of Edinburgh society.
Hazel Sinnett is a lady who wants to be a surgeon more than she wants to marry. Jack Currer is a resurrection man who is just trying to survive in a city where it is too easy to die. They have a chance encounter outside the Edinburgh Anatomist's Society. After she gets kicked out of Dr. Beecham's lectures for being the wrong gender, she realizes that her new acquaintance might be very helpful. Hazel makes a deal with Dr. Beecham: if she can pass the medical examination on her own, the university will allow her to enroll. Without official lessons, though, Hazel will need bodies to study, corpses to dissect. Jack has his own problems: strange men have been seen skulking around cemeteries, his friends are disappearing off the streets. Hazel and Jack work together to uncover the secrets buried in the very heart of Edinburgh society. 
The Invention of Sophie Carter by Samantha Hastings (Set in 1851) 
London identical twin sisters take turns swapping places over the course of a summer in order to pursue their secret ambitions, but things get out of control when they fall in love with two handsome gentlemen.
Brash Sophie wants to be an inventor, and demure Mariah wants to be an artist. The orphaned identical twins long to visit London for the summer-- Sophie to see the Queen's Great Exhibition and Mariah to study the world's finest collection of paintings. When their aunt answers their letter pleading for a place to stay, she insists she only has time and room to spare for one of them. They decide to travel to London together and take turns playing the part of "Sophie." As the girls avoid getting caught by increasingly narrow margins-- and meet two gentlemen who both think they're falling in love with Sophie-- the sisters find they don't have the situation quite as under control as they thought.
African Town by Irene Latham and Charles Waters (Set in 1859) 
Chronicles the story of the last Africans brought illegally to the United States on the Clotilda in 1860.
The transatlantic slave trade has been banned for more than fifty years, and the South is facing the threat of a civil war. Timothy Maeher resents the government interference in his right to make a living. Making a bet that he can smuggle enslaved Africans into the United States without being caught, he commissions the Clotilda, and brings back 110 African captives. Among them are Abilè, Gumpa, Kêhounco, Kossola, and Kupolee, who survive the voyage and arrive in Alabama still clinging to the hope of one day returning home. 
A Sitting in St. James by Rita Williams-Garcia (Set in the 1860s)
Eighty-year-old Madame Sylvie decides to sit for a portrait, as horrific stories that span generations from the big house and the fields are revealed.
After serving as mistress of Le Petit Cottage for more than six decades, Madame Sylvie Guilbert has decided, in spite of her family's indifference, to sit for a portrait. It will be a testament to all the hardships she overcame, the glory her life ought to have been. As she sits for the portrait, other stories are revealed: that of Thisbe, an enslaved woman who must stand silent by her mistress but observes everything. Or Byron, heir to the plantation, whose desires cannot fit with his family duty. Stories that span generations, and secrets that are buried as deep as the family fortune. 
The Downstairs Girl by Stacey Lee (Set in 1890)
By day, seventeen-year-old Jo Kuan works as a lady's maid for the cruel Caroline Payne, the daughter of one of the wealthiest men in Atlanta. But by night, Jo moonlights as the pseudonymous author of a newspaper advice column for 'the genteel Southern lady
Jo Kuan works as a lady's maid for the cruel daughter of one of the wealthiest men in Atlanta. But by night she moonlights as the pseudonymous author of a newspaper advice column for the genteel Southern lady, "Dear Miss Sweetie." When her column becomes wildly popular, she uses the power of the pen to address some of society's ills, but she's not prepared for the backlash that follows when her column challenges fixed ideas about race and gender. A mysterious letter sets Jo off on a search for her own past and the parents who abandoned her as a baby, but her efforts put her in the crosshairs of Atlanta's most notorious criminal. Jo must decide whether she is ready to step into the light. 
The Storyteller by Kathryn Williams (Set in 1918)
Seventeen-year-old Jess Morgan discovers her great-great-aunt's diaries, leading her on a quest to uncover whether Aunt Anna was actually a Romanov princess
Jess Morgan is growing tired of living her life to please everyone else. When she discovers her late aunt's diaries, Jess learns she;s not the only one struggling to hide who she really is. But was her aunt Anna truly the Romanov princess Anastasia? Or is this some elaborate hoax? As Jess digs into the century-old mystery she discovers another, bigger truth: only you can write your own story.
The Angel of Greenwood by Randi Pink (Set in 1921)
Takes place during the Greenwood Massacre of 1921, in an area of Tulsa, OK, known as the "Black Wall Street".
Seventeen-year-old Isaiah Wilson is, on the surface, a town troublemaker, but is hiding that he is an avid reader and secret poet, never leaving home without his journal. A passionate follower of W.E.B. Du Bois, he believes that black people should rise up to claim their place as equals.Sixteen-year-old Angel Hill is a loner, mostly disregarded by her peers as a goody-goody. Her father is dying, and her family's financial situation is in turmoil. Also, as a loyal follower of Booker T. Washington, she believes, through education and tolerance, that black people should rise slowly and without forced conflict. Though they've attended the same schools, Isaiah never noticed Angel as anything but a dorky, Bible toting church girl. Then their English teacher offers them a job on her mobile library, a three-wheel, two-seater bike. Angel can't turn down the money and Isaiah is soon eager to be in such close quarters with Angel every afternoon.But life changes on May 31, 1921 when a vicious white mob storms the community of Greenwood, leaving the town destroyed and thousands of residents displaced. Only then, Isaiah, Angel, and their peers realize who their real enemies are.
The Weight of Our Sky by Hanna Alkaf (Set in 1969)
A music-loving teen with OCD does everything she can to find her way back to her mother during the historic race riots in 1969 Kuala Lumpur, Malaysia.
Melati Ahmad believes that she harbors a djinn inside her, one who threatens her with horrific images of her mother's death unless she adheres to an elaborate ritual of counting and tapping to keep him satisfied. On the evening of May 13th, 1969, racial tensions in her home city of Kuala Lumpur boil over. The Chinese and Malays are at war, and Mel and her mother become separated. With the city in flames and a curfew in effect, it will take the help of a Chinese boy named Vincent and all of the courage and grit in Melati's arsenal to overcome the violence on the streets, her own prejudices, and her djinn's surging power, if she wants to make it back to the one person she can't risk losing.
Kent State by Deborah Wiles (Set in 1970)
Told from different points of view--protesters, students, National Guardsmen, and "townies"--recounts the story of what happened at Kent State in May 1970, when four college students were killed by National Guardsmen, and a student protest was turned into a bloody battlefield.
IMAGINE: You are a student in America. You are protesting a war. Or maybe you are just walking to class. The National Guard is called onto your campus. Imagine you are a young guardsman. The protest grows stronger. So does the confusion, the chaos, the fear. The guardsmen open fire. Imagine this is your school. Imagine this is your town. Imagine this is your country. Imagine American troops firing on American students. Imagine the four students who died. No. Remember the four students who died. Because all of this happened. On May 4, 1970, at Kent State University in Ohio, all of this happened. Now we need to talk about it. Because if we don't talk about it, it will happen again.
I Must Betray You by Ruta Sepetys (Set in 1989)
In a country governed by isolation, fear, and a tyrannical dictator, seventeen-year-old Cristian Florescu is blackmailed by the secret police to become an informer, but he decides to use his position to try to outwit his handler, undermine the regime, give voice to fellow Romanians, and expose to the world what is happening in his country.
Communist regimes are crumbling across Europe. Seventeen-year-old Cristian Florescu dreams of becoming a writer, but Romanians aren't free to dream; they are bound by rules and force. Amidst the tyrannical dictatorship of Nicolae Ceaușescu in a country governed by isolation and fear, Cristian is blackmailed by the secret police to become an informer. He's left with only two choices: betray everyone and everything he loves—or use his position to creatively undermine the most notoriously evil dictator in Eastern Europe. Cristian risks everything to unmask the truth behind the regime, give voice to fellow Romanians, and expose to the world what is happening in his country. He eagerly joins the revolution to fight for change when the time arrives. But what is the cost of freedom?