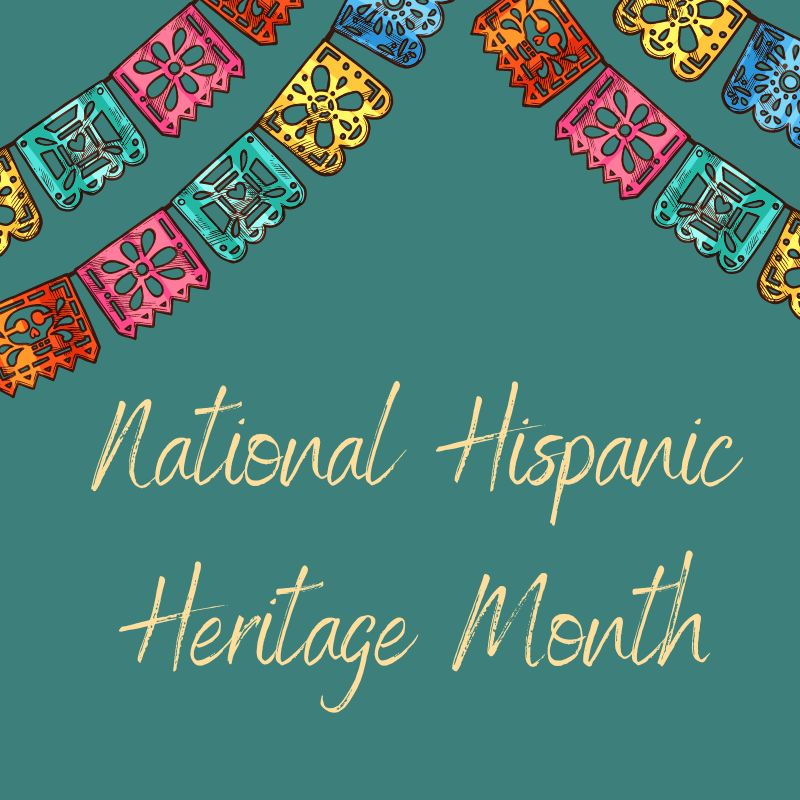 September 15 to October 15 is National Hispanic Heritage Month.This is atime to celebrate the histories, cultures and contributions of American citizens whose ancestors came from Spain, Mexico, the Caribbean and Central and South America. A great way to celebrate would be to read a book (or two or three) by a Hispanic and Latinx author- and we have six great options highlighted below. But we also recommend you check out the website for the month-long celebration at https://www.hispanicheritagemonth.gov/exhibits-and-collections/. This is a collaboration between the Library of Congress, National Archives and Records Administration, National Endowment for the Humanities, National Gallery of Art, National Park Service, Smithsonian Institution and United States Holocaust Memorial Museum. The link above will take you to their Exhibits and Collections page which has some phenomenal resources.
But back to our book highlights. Today we have six books to checkout that are all great teen reads (even though one is shelved in children's and one is shelved in adult). All titles are linked to our catalog, so if one catches your interest, follow the link and place it on hold today!
I Am Not Your Perfect Mexican Daughter by Erika L. Sánchez
Perfect Mexican daughters do not go away to college. And they do not move out of their parents' house after high school graduation. Perfect Mexican daughters never abandon their family. But Julia is not your perfect Mexican daughter. That was Olga's role. Then a tragic accident on the busiest street in Chicago leaves Olga dead and Julia left behind to reassemble the shattered pieces of her family. And no one seems to acknowledge that Julia is broken, too. Instead, her mother seems to channel her grief into pointing out every possible way Julia has failed.
The Poet X by Elizabeth Acevedo
Xiomara Batista feels unheard and unable to hide in her Harlem neighborhood. Ever since her body grew into curves, she has learned to let her fists and her fierceness do the talking. But Xiomara has plenty she wants to say, and she pours her frustration onto the pages of a leather notebook, reciting the words to herself like prayers - especially after she catches feelings for a boy in her bio class. With Mami's determination to force her daughter to obey the laws of the Church, Xiomara understands that her thoughts are best kept to herself. When she is invited to join her school's slam poetry club, she knows that she could never get around Mami's rules to attend, much less speak her words out loud. But still, she can't stop thinking about performing her poems. Because in spite of a world that may not want to hear her, Xiomara refuses to be silent. 
The First Rule of Punk by Celia C. Pérez
Twelve-year-old María Luisa O'Neill-Morales (who really prefers to be called Malú) reluctantly moves with her Mexican-American mother to Chicago and starts seventh grade with a bang--violating the dress code with her punk rock aesthetic and spurning the middle school's most popular girl in favor of starting a band with a group of like-minded weirdos.
Aristotle and Dante Discover the Secrets of the Universe by Benjamin Alire Sáenz
Dante can swim. Ari can't. Dante is articulate and self-assured. Ari has a hard time with words and suffers from self-doubt. Dante gets lost in poetry and art. Ari gets lost in thoughts of his older brother who is in prison. Dante is fair skinned. Ari's features are much darker. It seems that a boy like Dante, with his open and unique perspective on life, would be the last person to break down the walls that Ari has built around himself.
But against all odds, when Ari and Dante meet, they develop a special bond that will teach them the most important truths of their lives, and help define the people they want to be. But there are big hurdles in their way, and only by believing in each other―and the power of their friendship―can Ari and Dante emerge stronger on the other side.
The House on Mango Street by Sandra Cisneros
This book tells the story of Esperanza Cordero, a young girl growing up in the Hispanic quarter of Chicago, whose neighborhood is one of harsh realities and harsh beauty. Esperanza doesn't want to belong, not to her run-down neighborhood, and not to the low expectations the world has for her. Capturing her thoughts and emotions in poems and stories, she is able to rise above hopelessness and create a quiet space for herself in the midst of her oppressive surroundings. Esperanza's story is that of a young girl coming into her power, and inventing for herself what she will become.
Yadriel has summoned a ghost, and now he can't get rid of him. When his traditional Latinx family has problems accepting his true gender, Yadriel becomes determined to prove himself a real brujo. With the help of his cousin and best friend Maritza, he performs the ritual himself, and then sets out to find the ghost of his murdered cousin and set it free. However, the ghost he summons is actually Julian Diaz, the school's resident bad boy, and Julian is not about to go quietly into death. He's determined to find out what happened and tie off some loose ends before he leaves. Left with no choice, Yadriel agrees to help Julian, so that they can both get what they want. But the longer Yadriel spends with Julian, the less he wants to let him leave.