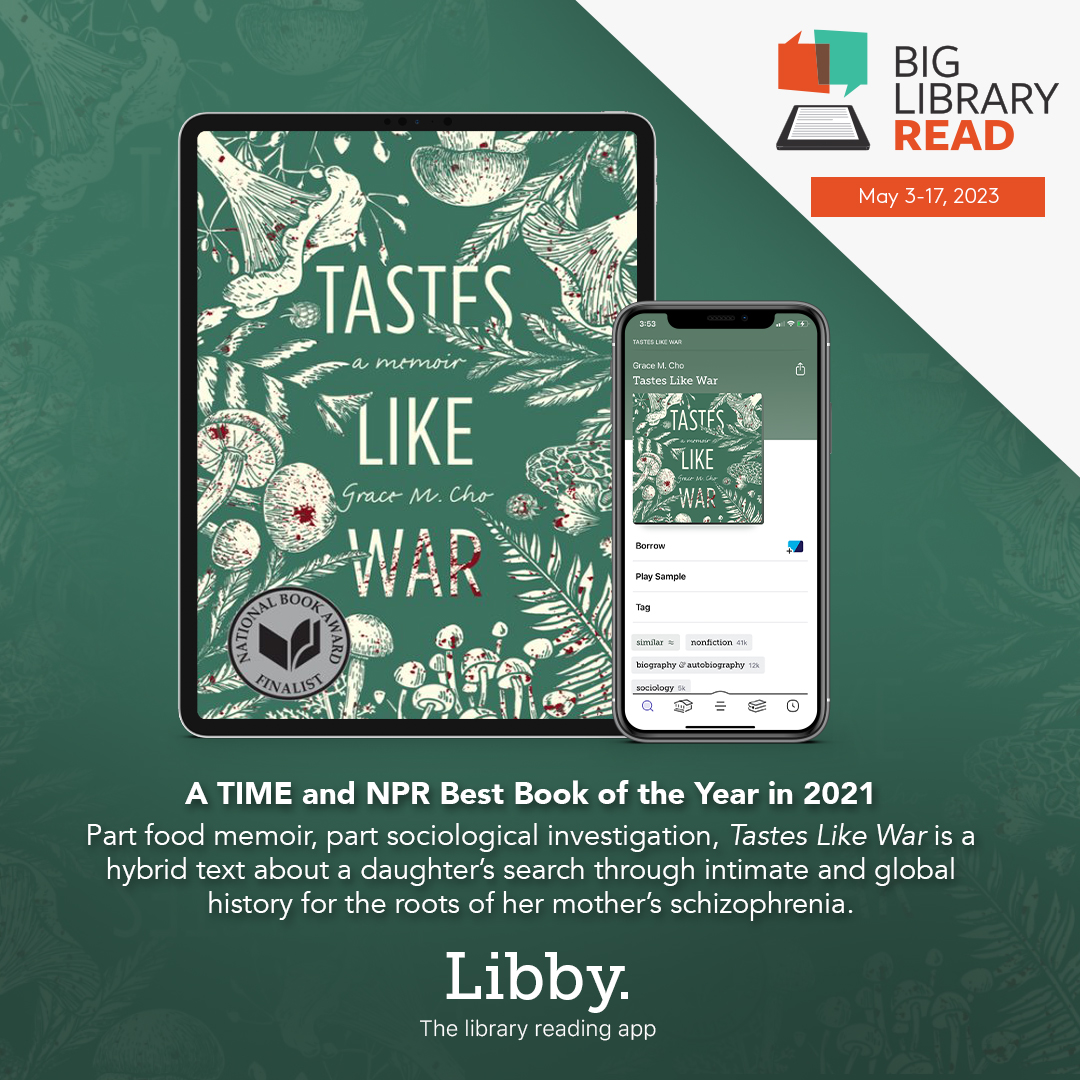 Bay County Library System resident cardholders can enjoy a National Book Award Finalist novel during Big Library Read, the world's largest digital book club!
From May 3-17, booklovers with a valid BCLS resident library card can join thousands of others around the globe in borrowing Grace M. Cho's evocative memoir, Tastes Like War, from their public library. Library card holders may read the ebook and audiobook for free without waiting on the Libby app or by visiting https://libbyapp.com/library/baycountylibrary. Readers can then discuss online at https://biglibraryread.com/join-the-discussion/.
Download Libby here or visit your local branch to get started!
BONUS: Use #biglibraryread to share your thoughts on social media for a chance to win a win a selection of book-ish prizes any reader is sure to love and Libby swag.
Finalist for the 2021 National Book Award for Nonfiction
Winner of the 2022 Asian/Pacific American Award in Literature
A TIME and NPR Best Book of the Year in 2021
This evocative memoir of food and family history is "somehow both mouthwatering and heartbreaking… [and] a potent personal history" (Shelf Awareness).
Grace M. Cho grew up as the daughter of a white American merchant marine and the Korean bar hostess he met abroad. They were one of few immigrants in a xenophobic small town during the Cold War, where identity was politicized by everyday details—language, cultural references, memories, and food. When Grace was fifteen, her dynamic mother experienced the onset of schizophrenia, a condition that would continue and evolve for the rest of her life.
Part food memoir, part sociological investigation, Tastes Like War is a hybrid text about a daughter's search through intimate and global history for the roots of her mother's schizophrenia. In her mother's final years, Grace learned to cook dishes from her parent's childhood in order to invite the past into the present, and to hold space for her mother's multiple voices at the table. And through careful listening over these shared meals, Grace discovered not only the things that broke the brilliant, complicated woman who raised her—but also the things that kept her alive.