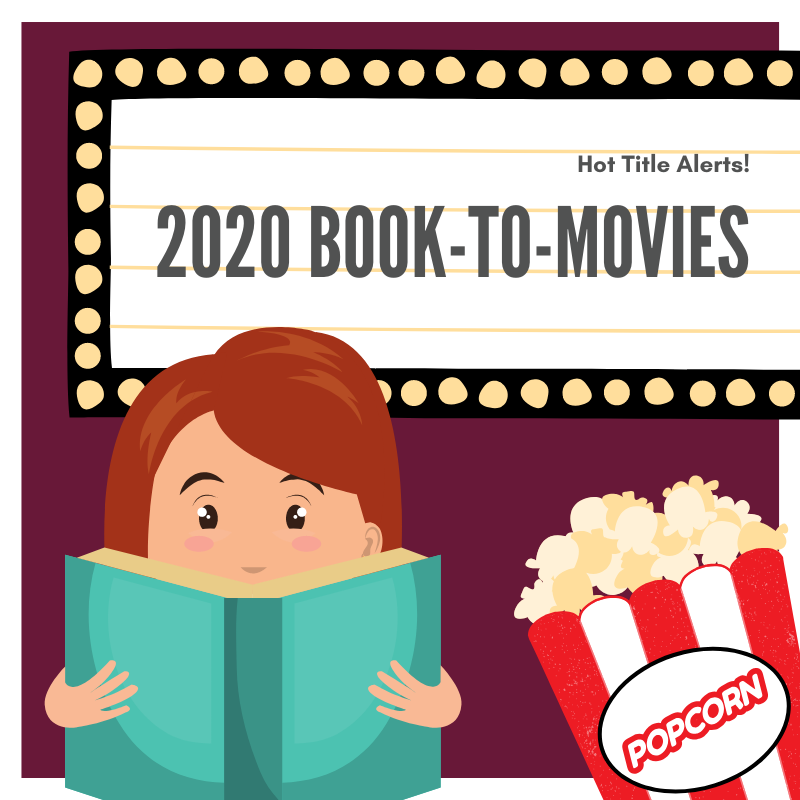 Like years past, 2020 is going to be full of book to movie adaptations. Once these titles hit the big screens (or small screens in the case of those being adapted into tv shows), the wait list for the book at the library tends to grow. Get ahead of the line by checking them out and reading them now. Then you can be that person who goes, "Oh that movie. I read it when it was only a book"
Click the book titles to link to the library database to put these titles on hold.
Emma by Jane Austen
You may have seen prior adaptations of this classic novel, including the one starring Gwyneth Paltrow from 1996. Though my favorite Emma adaptation will always be Clueless. This time Anya Taylor-Joy is playing the titular heroine. You can check out the movie trailer here. It looks like it is full of fun and color.
The Call of the Wild by Jack London
This classic tale of survival get a big name movie star in Harrison Ford with an amazing furry sidekick (not Chewbacca), as man and dog learn to survive in harsh Alaska. Check out the movie trailer here. 
The Woman in the Window by A.J. Finn
Fans of Gone Girl and The Girl on the train, this one's for you. Amy Adams stars as Dr. Anna Fox, an agoraphobic woman who witnesses something in the building across the way that maybe she shouldn't have. With strong Rear Window vibes, this should keep you guessing until the end. Check out the movie trailer here.
Artemis Fowl by Eoin Colfer
This book originally came out when I was in middle school. Since then, people have been saying how cool of a movie it would be and it's finally happening! Check out the teaser trailer here. Artemis Fowl follows a young boy who happens to be a criminal mastermind. Weaving fantasy and thriller elements, the series is still going today and even has graphic novel adaptations.
Little Fires Everywhere by Celeste Ng
Coming soon to Hulu, Reese Witherspoon and Kerry Washington star in this mini-series adaptation. This book was chosen for one of Reese's Hello Sunshine Book Club picks.Check out the teaser here.
All the Bright Places by Jennifer Niven
Starring Elle Fanning and Justice Smith this story follows two teenagers who both need someone. Fanning's character, Violet, is dealing with survivor's remorse after the death of her sister, while Smith's character, Finch, is obsessed with death and is dealing with depression. Touching on some serious issues, this novel and hopefully the movie, shine a light on dealing with mental illness in a beautiful way. Check out the trailer here.
Before I wrap up, I want to give a special shout out to a sequel coming out this month To All the Boys I've Loved Before: P.S. I Still Love You by Jenny Han and a fantasy series that came out last December The Witcher series by Andrzej Sapkowski. P.S. I Still Love you is so much fun but sequels don't always get love on these lists, and, bonus, we are expecting a third movie as well. So if you want to know what happens next in Lara Jean's journey but don't want to wait until the third movie, get that book. The Witcher was a 2019 release but just squeaked by at the end of the year, causing a renewed interest in the book series. The waitlists aren't very long, but the books are a great way to delve deeper into a story that has captured so many people's attention.
This is definitely not all of our book-to-movie adaptations we will see in 2020, but these are the ones with solid release dates and trailers, to give you a better sense of the style and tone of the films. Keep checking back and maybe we'll do a sequel piece with adaptations that are coming in the second half of the year. Until then, get some books on hold before the wait list gets too long.