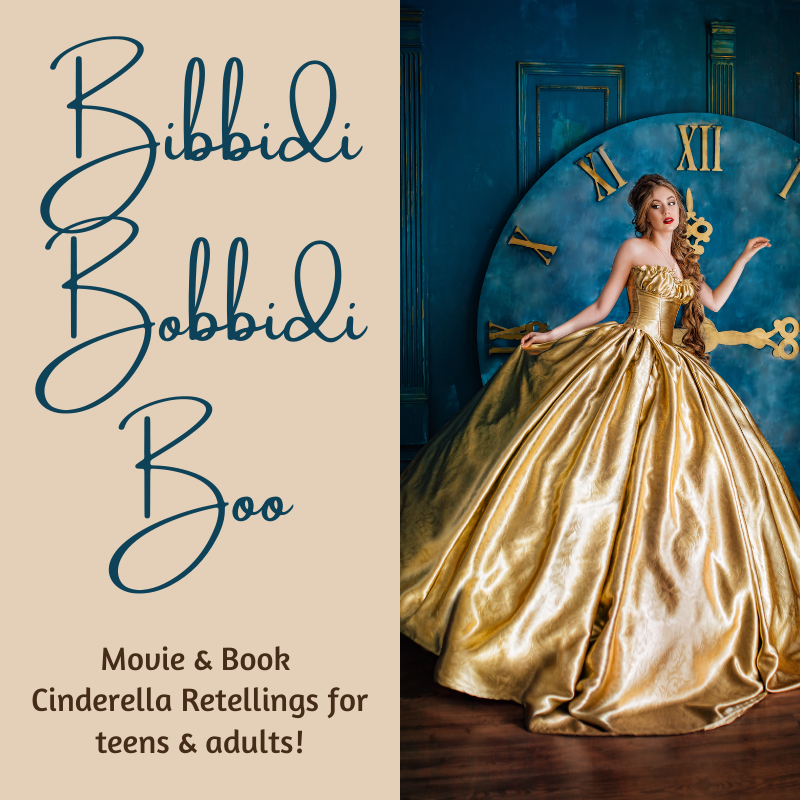 Amazon Prime released a trailer for their new Cinderella movie starring Camila Cabello (and Idina Menzel and Billy Porter and a lot of other talent). This got me reminiscing about some of my other favorite adaptations of the classic tale. While all fairy tales have provided us with great source material that has spawned so many retellings, Cinderella seems to me to be one of the most prolific in the sheer volume of adaptations. Today let's look at some of my favorite versions of Cinderella (and give you the links so you can check them out from the library as well).
Cinderella (Disney Movie 1950). Let's start with this classic. Many of us had our first encounter with the glass-slippered tale, in the Silver Age Disney feature. Typically when you say 'Cinderella' this is what people picture. 
Ella Enchanted (Book by Gail Carson Levine 1997)  This was one of my favorite books growing up. The story follows a girl with a curse, so a little different from the Cinderella we've known. This middle grade book gave Ella more power in her world, which made me love the book all the more.
Ella Enchanted (Movie 2004) I count this separately from the book, even though it is based on it, because there were so many changes. When I look at this as a book adaptation, they didn't really do a great job. But when I look at it as it's own standalone story, it is pretty good. Also it has a spectacular cast that includes Anne Hathaway, Cary Elwes, and Minnie Driver.
Cinder (Book by Marissa Meyer 2011) From the title of this teen book, you can tell right away that is a Cinderella adaptation. But it's a little different in that Cinder is a cyborg, and the moon is colonized, and it might be getting ready to attack earth? This book may sound a like a lot, but it is so good. 
Cinderella is Dead (Book by Kalynn Bayron 2020) This queer retelling for teens takes the well-known story and flips it into a dystopian tale where our female protagonists need to take a stand against this broken system. There is magic, adventure, romance, and more!
Stepsister (Book by Jennifer Donnelly 2019) This YA book starts with something, not from the DIsney version, but rather the Grimm tale. The story focuses on the stepsister who cut off part of her foot to make the slipper fit. After harming herself, and still ending up rejected, Isabelle begins her story of growth and redemption. There are more to the "wicked" stepsisters, and this book gives them their chance to shine.
A Kiss at Midnight (Book by Eloisa James 2010) Moving into adult books, Eloisa James is a wonderful historical romance author, and so adapting well-known fairy tales was such a perfect fit. The book gives new dimension to the characters, and the way the author addresses the magical elements in the story is pure joy.
If the Shoe Fits (Book by Julie Murphy 2021) Okay, this just came out and I haven't read it yet, but I am so excited for it. Here's a bit of the blurb Cindy loves shoes. A well-placed bow or a chic stacked heel is her form of self-expression. As a fashion-obsessed plus-size woman, she can never find designer clothes that work on her body, but a special pair of shoes always fits just right. Best-selling author Julie Murphy's reimagining of a beloved fairy tale is an enchanting story of self-love and believing in the happy ending each and every one of us deserves. Doesn't it sound great?
Ever After (Movie 1998) This is probably one of my top five most watched movies. I loved Drew Barrymore's version of the character. She showed so much growth and had such swoon-worthy clothes and hairstyles. 
Rodger's and Hammerstein's Cinderella (Movie 2000) This musical adaptation starring Brandy, Whitney Houston, Whoopi Goldberg, Victor Garber and Jason Alexander is just a joy to watch. The music is amazing, the cast is so talented. You will be singing these songs long after the movie ends.