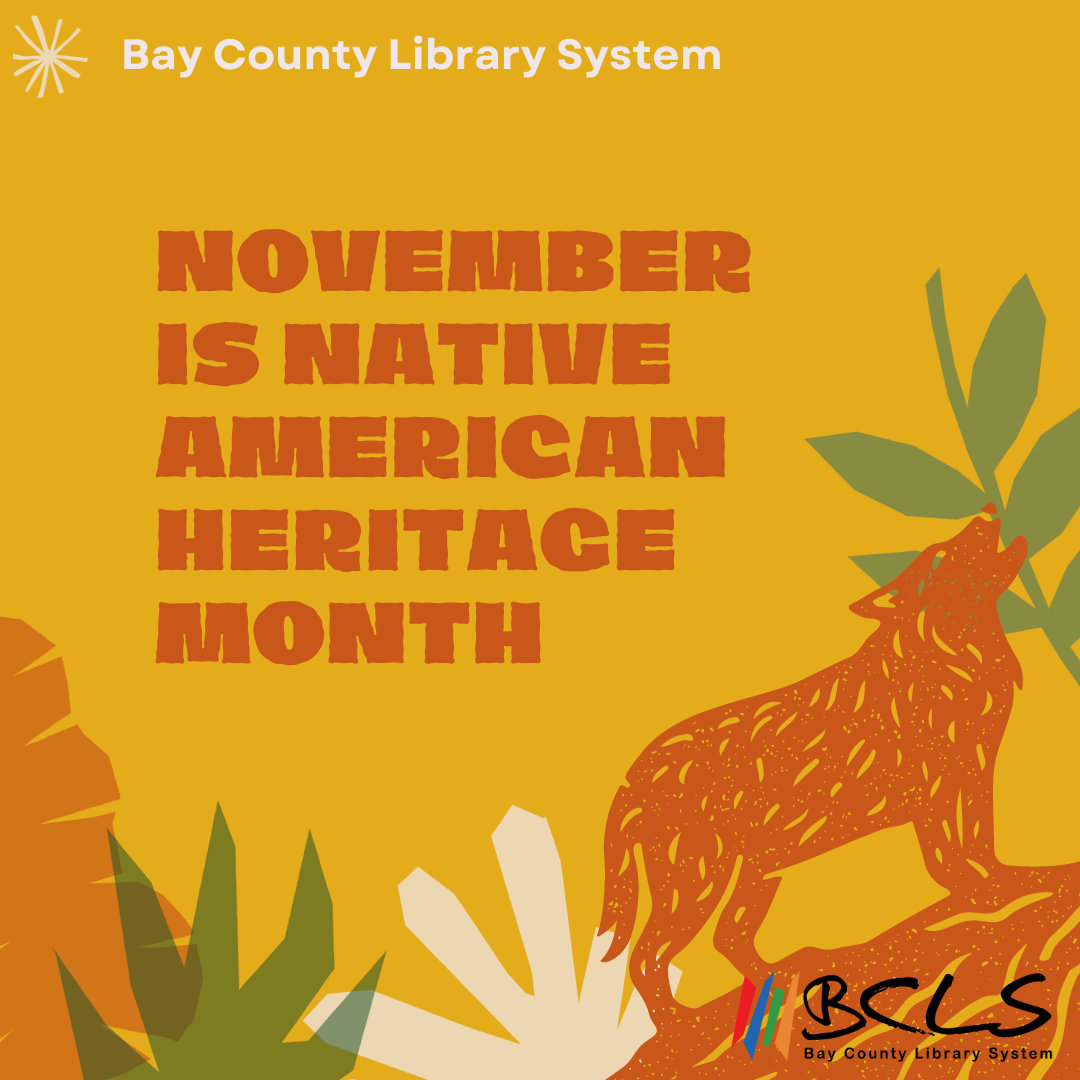 Every year we recognize November as National Native American Heritage Month, which gives us the opportunity to recognize and celebrate the heritage, traditions and contributions of all native and indigenous people, who have enriched and shaped our country in so many invaluable ways. 
In celebration of this, check out some of the book lists we've curated below by native and indigenous authors, both fiction and non-fiction, books and audiobooks.  Collections of music and movies are also included, available to check out and/or download with your Bay County Library System library card from your favorite branch, Libby or hoopla!
And Then She Fell - Alicia Elliott
Bad Cree - Jessica Johns
The Berry Pickers - Amanda Peters
Black Elk Speaks - Black Elk
A Council of Dolls - Mona Susan Power
The Lost Journals of Sacajawea - Debra Magpie Earling
Murder on the Red River - Marcie R. Rendon
Never Whistle at Night: An Indigenous Dark Fiction Anthology - Shane Hawk (editor)
An Ordinary Violence - Adriana Chartrand
Project 562: Changing the Way We See Native Americans - Matika Wilbur
The Rediscovery of America: Native Peoples and the Unmaking of American History - Ned Blackhawk
Searching for Savanna: The Murder of One Native American Woman and the Violence Against the Many - Mona Gable
Swim Home to the Vanished - Brendan Shay
Thinning Blood: A Memoir of Family, Myth, and Identity - Leah Myers
VenCo - Cherie Dimaline
Walking the Ojibwe Path: A Memoir in Letters to Joshua - Richard Wagamese
Warrior Girl Unearthed - Angeline Boulley
We Refuse to Forget: A True Story of Black Creeks, American Identity, and Power - Caleb Gayle
_____________________________________________________________________________
Looking for digital/download only?  Check out the curated links below!
Books, audiobooks and magazines available to download from Libby here.